Maximize your profits with a HotSpot
Why not utilize the space around your business to offer your current and perspetive clients internet access by means of your own HotSPot?
What is a HotSpot?
According to Wikipedia: A hotspot is a site that offers Internet access over a wireless local area network (WLAN) through the use of a router connected to a link to an Internet service provider. Hotspots typically use Wi-Fi technology. Hotspots may be found in coffee shops and various other public establishments in many developed urban areas throughout the world.
Many businesses can benefit from using HotSpot technology including, but not limited to, Restaraunts, Hotels, Coffee Shops, Beauty Salons and Many other places
Now any Hotel or other business can easily control WiFi and wired Internet accessToday's travelers expect WiFi in every hotel. The quality of the Internet service exert influence on their satisfaction, desire to come back, and overall business review rating. Your Hotel WiFi should provide high quality browsing experience on high bandwidth consumers like iPads, as well as on laptops and smartphones.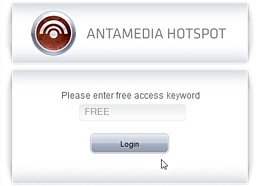 Many hotels fail today to provide quality Hotel WiFi because of:
Incomplete control, higher level paid service could be used for two weeks instead of one week
It's not secure, guests are not isolated in the network
Some guests may use most of the bandwidth streaming videos or downloading, while other may not be able to get an Email
Not protected from potential criminal activity, as the guest web activity is not tracked and logged. And many more reasons…
Take control over your Business WiFi! Antamedia HotSpot software helps you offer free or paid Hotel WiFi access, efficiently manage and control it: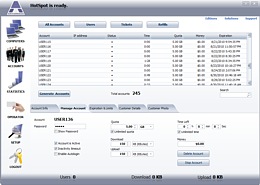 Easily create prepaid accounts or voucher tickets
Post charges to the guest room using PMS interface
Free access with daily limits on download, time, data
Combine free trial with paid faster access
Remote HotSpot operator for front-desk staff
Require accepting terms of use before session
Collect guest data (name, Email, address)
Set up business WiFi using Windows based computer, configure your branding, create extra profits. No compromises. We can setup Wifi for Hotels, Stores, Schools, or Bars. Contact us for more info on how we can help your business with a Wifi Access Hotspot.